Newborn Editing – Before and after photoshop
by
Newborn Editing is a popular topic as most people really like to see before and afters. Every now and then, I like to share an original photo compared to a final product. I think it gives readers a bit of insight into a photographer and the editing process. Babies are absolutely perfect the way they are, when I edit newborn photos I aim to save their natural beauty being careful to keep precious details. The biggest problems that seems to come from newborns is redness, jaundice, flaky skin and acne. A large part of what goes in to making gorgeous images is skin retouching.
Newborn photography is one of my favorite genres, but each photo takes quite a bit of time and effort to perfect. Here is one of the the straight out of camera baby portraits and my final retouched image. If you're a curious parent or parent-to-be, then enjoy!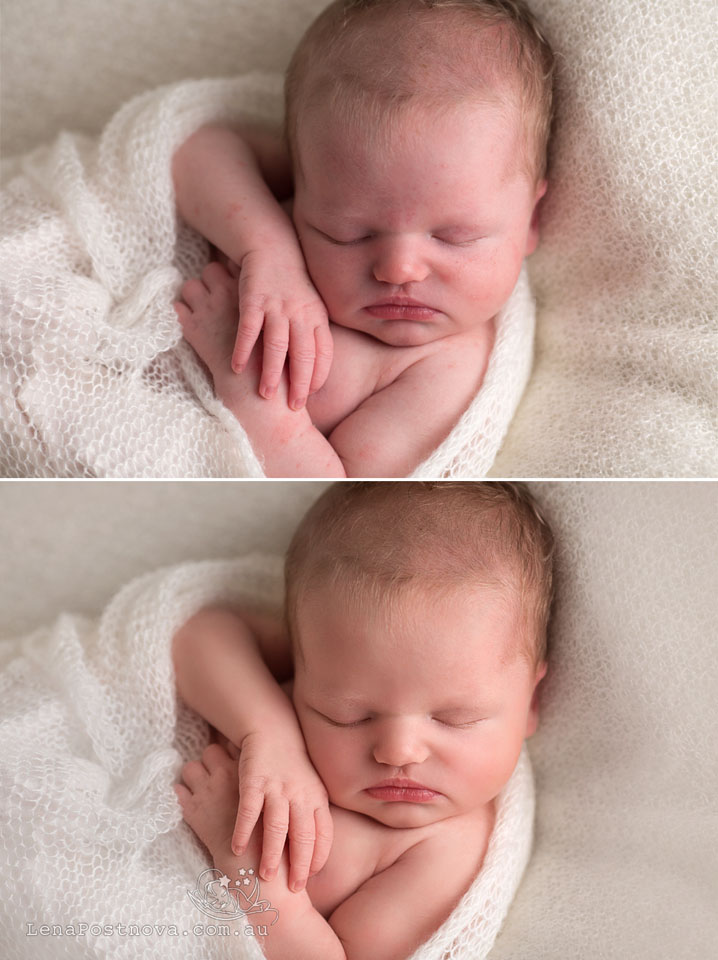 Newborn Editing – Before and after Photoshop- Lena Postnova Photography – Newborn Photographer Sydney
Having a successful portrait business involves knowing how to use Photoshop effectively, so our clients are receiving a best quality product and become return clients for their family. Photoshop tricks will never replace getting it right in camera first but Photoshop skills will take images to a new level. There is a lot that goes into a newborn photography session, from planning, to execution, to editing. I truly enjoy every aspect of it!
Newborn babies are one of the most beautiful and precious gift life has to offer! The wonderful days of welcoming a new baby into the family are so precious but they pass very quickly. I love helping families getting beautiful photos of their new babies to cherish those memories for a lifetime.
For any questions or bookings please email me at – info@lenapostnova.com.au or contact through the CONTACT form.
My Facebook page and Instagram @lena.postnova