Newborn Photography Behind the Scenes
by
This Newborn Photography Behind the Scenes video is my first attempt to capture myself working and this was fun!
So here it is – a tiny glimpse behind the scenes during a newborn photography session.
Watch on Youtube Head on Hands Pose – Behind the Scenes Newborn Photography
In this short video I am capturing a Head on Hands newborn pose. This is one of my favourite baby poses. It is not as easy as it looks to get a baby into this pose correctly, some photographers struggle for years to position little ones so the bub's face does not look like it was squished into the blanket. I love capturing this pose and I know all the little tricks to achieve the best angle so we can enjoy their little faces and the baby looks natural. It is actually quite comfortable pose for most of the babies as they love to have some tummy time. Often I get parents to support baby's head and photoshop out the supporting  hand later, this happens usually when I try to angle baby's head more or when baby is a bit unsettled. Baby safety is always my priority and if I see that baby does not like this pose I never force it. I call it Head on Heands but it also calls Hands under Chin pose, or Head on Arms pose, or Chin on Wrists pose.
Here is one of the images I got for the beautiful one week old baby model.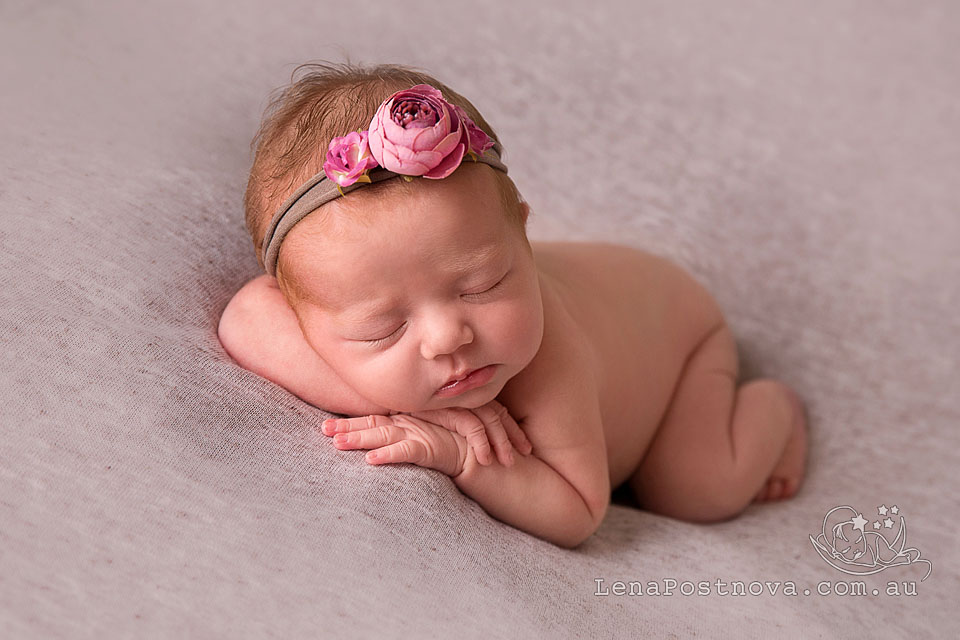 Newborn Photography Behind the Scenes by Sydney Baby photographer Lena Postnova
For bookings and price requests you can reach me by email – info@lenapostnova.com.au or through CONTACT form.
My Facebook page and Instagram @lena.postnova
A baby fills a place in your heart that you never knew was empty.